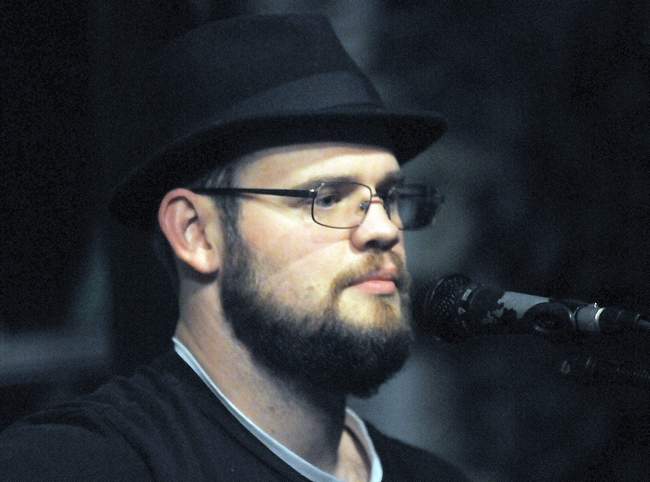 By Chris Bergeron
Daily News Staff
Posted Jan. 19, 2014 @ 11:34 am
UPTON – Perched atop a stool in the Rose Room Revue, Luke MacNeil sings in a gravely voice about losers, lovers and lost souls.
On a bitterly cold night, about 30 people have come to the regular Thursday evening open mic above the Rose Garden Restaurant in Upton. In the adjoining bar, patrons watch a black-and-white rerun of "The Andy Griffin Show." Warming up the audience, host Ronda Matson encourages about 10 performers who've signed up to play, "Let's make new music in 2014.''
Wearing cargo pants and a black T-shirt advertising C.F. Martin guitars, the bearded MacNeil takes the stage next to a sign advertising Sam Adams draft beer.
Thumping a staccato beat on the bridge of his guitar, he sings an obscure song by Tom House about a laborer who can't remember whether he "carved up'' a lonely woman in an alcoholic fog. Like his signature black fedora, the Milford native inhabits the song like he wrote it, rocking a bit and tapping his feet on the rungs of the stool.
For his set's second song, MacNeil covers Tom Waits "Hold On,'' singing in an intimate growl of a girl "with charcoal eyes and Monroe hips (who) went and took that California trip.''
A burly man named Larry Tonks ignores his beer and leans forward as if trying to hear every word. A woman with a white ponytail half-closes her eyes in a private reverie and sways a bit in her chair.
MacNeil is doing exactly what he wants to do.
"This is my favorite part of the week,'' he said before going on. "Here with friends. Sharing songs I love. I hope they love them, too.''
MacNeil will bring his passion for what he calls Americana music to Amazing Things Arts Center on Friday, March 7, when he opens for Peter Mulvey who just completed his 15th album, "The Good Stuff.''
MacNeil will be singing songs from his third album with the deceptively simple title, "These Are Good Songs.'' Mostly self-produced, it features 10 tracks on which he covers songs by many of his favorites, including Mulvey, Martin Sexton and Jeffrey Foucault.
On March 1, MacNeil will perform a benefit concert Saturday, at the Whitinsville Fish and Game Club in Douglas to raise money to help Pamela MacNeil, the widow of his late father, Danny MacNeil who died last Thanksgiving at the age of 57.
MacNeil decided to learn to play guitar as teenager after hearing his father and uncles play Hank Williams' "There's a tear in my beer.''
He said he learned to play bass guitar from a local musician named Mickey Schmidt who "needed a bass player.'' Watching others and studying from books, he developed his own "percussive style'' of rapping out the beat with his hand on his guitar because he often played without a drummer.
Starting out, MacNeil played in an "avant garde folk band'' from Milford called Mental Evolution but that wasn't what he wanted.
For two years from 2006 to 2007, MacNeil pursued a solo career in Boston singing his own songs at Club Passim, the Abbey Lounge and on the streets of Davis Square in Somerville. He cut two albums, including "Here's One for Sanity,'' but decided that wasn't what he wanted to do.
"It killed the fun. I wasn't making any money,'' he said. "I just didn't like the songs I was writing and singing.''
MacNeil, who works full time in Woonsocket, R.I., as a Linux engineer for CVS Caremark Corp., now plays regularly in the Rose Room Revue simply for his love of performing music he enjoys.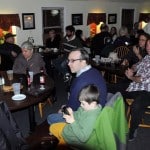 Matson, who's been organizing the open mic since 2010, described MacNeil as "a very giving performer who's been very supportive of other players.''
"Luke sets the bar high,'' said Matson, a self-described "performing songwriter'' who's released two albums. "He contributes to a very welcoming environment.''
Not content to sit still, MacNeil took voice lessons with teacher Mark Baxter of Revere to increase the range of his baritone voice. He looks for songs about "real people living real lives'' and not just "pretty songs like Peter, Paul and Mary'' sang.
"I'm trying to be myself with songs I like. I'm not trying to make it a career,'' he said. "I guess I'm saying to the audience, 'These are songs I love and I just like playing them. I hope you love them too.' "
For the foreseeable future, MacNeil plans to keep singing in the Rose Room Revue where he doesn't have to compete with a big screen television or karaoke and the audience "really listens.''
"I can't imagine,'' he said, "a time when I'm not singing.''
Chris Bergeron is a Daily News staff writer. Contact him at [email protected] or 508-626-4448. Follow @WickedLocalArts on Twitter or on Facebook.
– See more at: http://www.metrowestdailynews.com/article/20140119/ENTERTAINMENTLIFE/140118696/0/SEARCH/?tag=2#sthash.oILYO8Nt.dpuf